The Article V convention is a Constitutional Convention
[Part I]
Governor Abbott unveiled his Texas Plan on January 8, 2016 with his wish list of amendments to the U.S. Constitution. This is interesting because the governor has no legislative powers.
Texas Constitution, Article II:. The powers of the Government of the State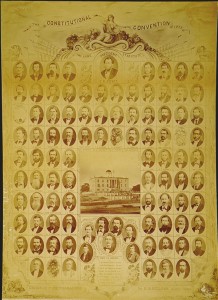 of Texas shall be divided into three distinct departments, each of which shall be confided to a separate body of magistracy, to wit: Those which are Legislative to one; those which are Executive to another, and those which are Judicial to another; and no person, or collection of persons, being of one of these departments, shall exercise any power properly attached to either of the others, except in the instances herein expressly permitted.
Only the Texas legislature can propose a "request" (through a resolution) to Congress, for an Article V convention, a.k.a. constitutional convention (con con), yet Gov. Abbott released his 92 page "Texas Plan" to re-write the U.S. Constitution (con con). And, no less than 5 times the governor calls for a "constitutional convention", under the Texas Plan (pages 67 & 68). Continue reading "Gov. Abbott Wants a Con Con, part I"