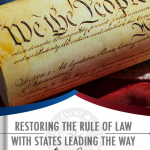 Texans don't like to be deceived and lied to. It is especially disappointing when that Texan has invested countless hours and resources behind a leader's words, trusting that the leader has Texan's best interests in mind.
Well, in politics just as in business, it is unwise to trust your resources to another without proper oversight and investigation.
Convention of States proponents have long been told by such deceivers as Michael Farris, Mark Meckler, Mark Levin, and Tom Colburn to name just a few, that the Article V convention is not a constitutional convention – it can't be, and it won't be.  They further pretend that those naysayers claiming that it is a constitutional convention are ignorant or misleading, and refuse to do anything about our runaway federal government.
Well, we're sorry to inform those Texans that have put their heart and soul into the COS project, that our Republican governor Greg Abbott has just announced to you that the Article V convention IS a constitutional convention. Not only that, Abbott supports and calls for a constitutional convention to rewrite our form of government in his "Texas Plan" released January 8, 2016.
Anyone can read the entire 70 pages (Texas Plan) .
Governor Abbott defines the Article V convention as a constitutional convention, and calls his Texas Plan a con con no less than 5 times on pages 67 & 68. Here's a highlight of that: https://drive.google.com/file/d/0B5osUEitCWr0dDVheHdfT0ZSZ1k/view?pref=2&pli=1
The COS lawyers have lied to you.
The "naysayers" (as the COS people call us) have been trying to show where an Article V convention IS a con con for years. Black's Law dictionary, (the one lawyers use) doesn't hide this fact:
• http://thelawdictionary.org/constitutional-convention/ (Blacks Law Dictionary) Constitutional Convention – A duly constituted assembly of delegates or representatives of the people of a state or nation for the purpose of framing, revising, or amending its constitution. [emphasis added]
We hope that those opposed to a con con within the COS project will put their efforts behind the enforcement of the constitution we have now, before supporting a wholesale rewrite of our form of government which an Article V convention has the power to do. We find it disappointing that the Texas governor has more respect for 5 un-elected lawyers in DC than he does for the Texas Constitution and Texas law (Family Code) in the Obergefell opinion. Now we are just as saddened that we have put trust into a man who supports a con con.