If only the average Texan had the time to read the entire Education Code, the average Texan would understand all the current options available to the so-called "disadvantaged" urban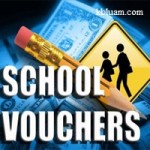 children.
This blogger just found part of the Education Code that already allows for public Pre-K  (government day-care) for "disadvantaged" children as young as 3 years of age.
Sec. 29.153. FREE PREKINDERGARTEN FOR CERTAIN CHILDREN, allows for public "daycare" for children satisfying any of these requirements:
1. Unable to speak and comprehend the English language
2. Educationally disadvantaged
3. Homeless child
4. Child of an active duty member of the armed forces
5. Child of an active duty member of the armed forces killed in action
6. Is or ever has been in the conservatorship of the Department of Family and Protective Services
The Texas Ed Code further states:
"Each school district shall develop a system to notify the population in the district with children who are eligible for enrollment in a prekindergarten class under this section of the availability of the class. The system must include public notices issued in English and Spanish."
This week, yet another bill will be heard in the Senate committee on Education that pretends to improve the public schools for the inner-city disadvantaged child by forcing public funds on private schools – SB 1513 by Sen. Hancock.
This is a horrible bill!   Not only does it reinvent the Ed Code and force public funds on the private schools, but it is discriminatory, just like the current Ed Code, and further restricts who can access government day-care for 3 & 4 year olds.
SB 1513 discriminates against smaller urban districts and against rural districts by limiting vouchers to students whose district  qualifies within this criterion:
(A) wholly located in a county with a population of more than 2.3 million; and
(B) has a student population that is more than 27,000 and less than 31,000.
Talk about reverse discrimination and taxation without representation.
WHEN will Texans find the time to read what's in the Education Code to understand their current options?  Our Austin legislators are attempting to lessen the education choices for parents by forcing the destructive government programs on the private schools along with the government money.   Government has a fiduciary duty to oversee the expenditures of the People's taxes which means that the destructive government programs that have ruined the government schools will soon destroy the affordable private school program too.  If private schools are doing a better job, government should copy their model, not force a destructive model onto the successful model.  That is, assuming government is truly concerned about all children.
Contact the Texas Senate Committee on Education, and tell them "NO" to SB 1513 by Sen. Kelly Hancock.
Chair: Sen. Larry Taylor 512-463-0111
Vice Chair: Sen. Eddie Lucio, Jr. 512-463-0127
Sen. Paul Bettencourt 512-463-0107
Sen. Donna Campbell 512-463-0125
Sen. Sylvia Garcia 512-463-0106
Sen. Don Huffines 512-463-0116
Sen. Lois W. Kolkhorst 512-463-0118
Sen. José R. Rodríguez 512-463-0129
Sen. Kel Seliger 512-463-0131
Sen. Van Taylor 512-463-0108
Sen. Royce West 512-463-0123
Sec. 29.153. FREE PREKINDERGARTEN FOR CERTAIN CHILDREN
http://www.statutes.legis.state.tx.us/Docs/ED/htm/ED.29.htm#29.153