PARENTAL CHOICE is, and has been, in the Texas Education Code since at least 1995, allowing for a student to transfer to another campus within a school district, to another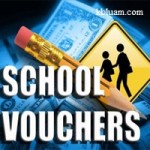 school district, to another county, and even to a district in another state (for districts bordering the state line).
PUBLIC EDUCATION GRANTS and the public FINANCING of the grants is, and has also been, in the Texas Education Code since 1995.
Why then, does the Texas Legislature continue to reinvent the wheel with programs designed to force private schools to accept public money through grants or vouchers?  This is done under the guise of helping the poor inner city kids with their failing schools.  Actually, it is to control the private schools where the state has been unsuccessful before. The 10th plank of the Communist manifesto reads:
Free education for all children in public schools. Abolition of children's factory labor in its present form. Combination of education with industrial production.
Americans are being taxed to support what we call "public schools", but are actually "government force-tax-funded schools". Even private schools are government regulated to an extent through the accrediting agencies.
Lt. Governor Dan Patrick campaigned on school choice and as the Chair of the Senate Committee on Education (83rd session) he passed bills that grow the public education system.
Through parents' ignorance of the law, the Texas state legislators are successfully selling the communist agenda. Bills such as Sen. Donna Campbell's SB 276 called the "taxpayer savings grant", ignores the current Education Code and its allowances for students in a poor performing school to petition and choose another campus. Instead her bill forces private schools to accept public funds and the students wishing to transfer with these public funds. Public funds come with government control. The government has a fiduciary duty to the taxpayer to oversee the programs funded with taxes.  That equates to government programs following the government money, maybe not initially, but down the road somewhere, under a different Governor, Lt. Governor, State Legislature, and State Board of Education. There is no way to predict the future complexion of the state government.  A wiser decision for school choice would be to enforce the current Education Code first!
HB 1796 by Rep. Boahc, is a better choice of legislation as it actually capitalizes on the current law to allow students to transfer within the public school system without forcing private schools to accept public money. However, Rep. Bohac's bill is less than desirous as it proposes to abolish the right of the parent to appeal a district's rejection of parental petition for a student transfer.
The communist purpose of public schools is to train the young to work for the communal debt system. We also call it the Department of Education, the NEA, "Outcome -Based Education", and "Common Core Education". These are used so that all children can be indoctrinated and inculcated with the government propaganda, like "majority rules", and "pay your fair share". Where are the words "fair share" in the Constitution, Bill of Rights, or the Internal Revenue Code? Nowhere is "fair share" even suggested. The philosophical concept of "fair share" comes from the Communist maxim, "From each according to their ability, to each according to their need". This concept is pure socialism. America was made the greatest society by its private initiative work ethic. Teaching ourselves and others how to "fish" to be self-sufficient and produce plenty of extra commodities so that if one desires, could be shared with others who might be "needy". Americans have always voluntarily been the MOST generous and charitable society on the planet.
If the private schools do a better job, then the public schools should imitate them, not force government money (and eventually their failing programs) on them. 
Enforce the Texas Education Code and its current provisions to transfer to another campus. Don't force private schools to accept public (communist) money and programs. Communism is the antithesis of individual freedom.
See Texas Education Code:
Parental Choice [Sec. 29.201]
Public Financing [Sec. 29.203]
Student Transfers…
25.035. TRANSFERS BETWEEN DISTRICTS OR COUNTIES. [1995 –Sen Bill Ratliff, SB 1]
25.040. TRANSFER TO DISTRICT OF BORDERING STATE. [1995]
25.0341. TRANSFER OF STUDENTS INVOLVED IN SEXUAL ASSAULT [2005]
25.0342. TRANSFER OF STUDENTS WHO ARE VICTIMS OF OR HAVE ENGAGED IN BULLYING. [2005]
25.0343. TRANSFER OF STUDENTS RESIDING IN HOUSEHOLD OF STUDENT RECEIVING SPECIAL EDUCATION SERVICES [Added by Acts 2006, 79th Leg.]
Sec. 25.036. TRANSFER OF STUDENT. [1995]
25.037. TRANSFER OF STATE FUNDS. [1995]
25.038. TUITION FEE FOR TRANSFER STUDENTS. [1995]
25.039. CONTRACTS AND TUITION FOR EDUCATION OUTSIDE DISTRICT. [1995]