(updated 9-10-14 @ 3:00pm)
Smoke & mirrors can fool the best citizen activist but, sifting through the smoke and splintered facts with patience can uncover the truth. Taking a statement out of context, and quoting one section of the Texas Transportation Code can claim just about anything a director of the Department of Public Safety may wish to claim, but the truth is found when the entire Code is read, especially when legislative intent is examined.
The current Director of the Texas Department of Public Safety was allowed to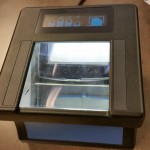 write a brief article in a Dallas paper on Sept. 3, 2014, attempting to "clear up any misconceptions related to the legality of the expanded fingerprinting process within Texas driver's license system", claiming DPS authority by quoting three words from the Texas Transportation Code; "thumbprints or fingerprints". The issue at hand is the DPS collection of all 10 fingerprints from anyone in Texas wishing to obtain a driver's license or personal identification card.
DPS claims authority under a law passed in 2005, however in reading the entire text of HB 2337, it is plain to see that the legislative intent of the bill's author and sponsor specifically did not change the collection of "the thumbprints of the applicant or, if thumbprints cannot be taken, the index fingerprints of the applicant". There is no proof in legislative intent to extend the fingerprint collection to all 10 digits. So much so, the author and sponsor of the 2005 law went to the effort to re-state the Transportation Code which explicitly limits collection to the thumb prints, OR if the thumbprints can't be taken that the index fingerprints be collected. The term "fingerprints" refers to a possible 2 index fingerprints if no thumbs are available, not 8 or 10 digits.
Read the law yourself. HB 2337 states:
The application must include:
(1) the thumbprints of the applicant or, if thumbprints cannot be taken, the index fingerprints of the applicant
Transportation Code 521.142 can be read here:
http://www.statutes.legis.state.tx.us/Docs/TN/htm/TN.521.htm#521.142
521.142 is referenced no less than 11 times in the driver's license portion of the Code, and yet not one single Texas legislator will ask the Texas Attorney General to render an immediate opinion on the actions of the DPS. Wake up Texans. Your permanent personal information is being collected and subject to theft, unless of course you can change your own fingerprints, which could be less painful than being issued a new social security number.
UPDATE:
The Texas Attorney General's office has advised that ANY current committee chair can request that the A.G. render an opinion on the actions of the DPS. Here's the committee chairs in the 83rd Legislature. Some were defeated in the primary and some resigned to run for another office.
If you see YOUR legislator listed – call them….
Rep. Abel Herrero (512) 463-0462
Rep. Allan Ritter (512) 463-0706
Rep. Bill Callegari (512) 463-0528
Rep. Brandon Creighton (512) 463-0726
Rep. Byron Cook (512) 463-0730
Rep. Carol Alvarado (512) 463-0732
Rep. Charlie Geren (512) 463-0610
Rep. Dan Branch (512) 463-0367
Rep. Dan Flynn (512) 463-0880
Rep. Debbie Riddle (512) 463-0572
Rep. Dennis Bonnen (512) 463-0564
Rep. Drew Darby (512) 463-0331
Rep. Garnet Coleman (512) 463-0524
Rep. Gary Elkins (512) 463-0722
Rep. Geanie Morrison (512) 463-0456
Rep. Harold V. Dutton, Jr. (512) 463-0510
Rep. Harvey Hilderbran(512) 463-0536
Rep. Jim Keffer (512) 463-0656
Rep. Jim Murphy (512) 463-0514
Rep. Jim Pitts (512) 463-0516
Rep. Jimmie Don Aycock (512) 463-0684
Rep. Joe Deshotel (512) 463-0662
Rep. John Davis (512) 463-0734
Rep. John T. Smithee (512) 463-0702
Rep. John Zerwas (512) 463-0657
Rep. Jose Menendez (512) 463-0634
Rep. Joseph Pickett (512) 463-0596
Rep. Larry Phillips (512) 463-0297
Rep. Linda Harper-Brown (512) 463-0641
Rep. Lois W. Kolkhorst (512) 463-0600
Rep. Mike Villarreal (512) 463-0532
Rep. Myra Crownover (512) 463-0582
Rep. Patricia Harless (512) 463-0496
Rep. Rafael Anchia (512) 463-0746
Rep. Rene Oliveira (512) 463-0640
Rep. Richard Pena Raymond (512) 463-0558
Rep. Ruth Jones McClendon (512) 463-0708
Rep. Ryan Guillen (512) 463-0416
Rep. Senfronia Thompson (512) 463-0720
Rep. Tan Parker (512) 463-0688
Rep. Todd Hunter (512) 463-0672
Rep. Tracy O. King (512) 463-0194
Rep. Tryon D. Lewis (512) 463-0546
Rep. Wayne Smith (512) 463-0733
Sen. Bob Deuell (512) 463-0102
Sen. Craig Estes (512) 463-0130
Sen. Dan Patrick (512) 463-0107
Sen. Glenn Hegar (512) 463-0118
Sen. Jane Nelson (512) 463-0112
Sen. John Carona (512) 463-0116
Sen. John Whitmire (512) 463-0115
Sen. Juan Hinojosa (512) 463-0120
Sen. Judith Zaffirini (512) 463-0121
Sen. Kel Seliger (512) 463-0131
Sen. Kevin Eltife (512) 463-0101
Sen. Leticia Van de Putte (512) 463-0126
Sen. Robert Duncan (512) 463-0128
Sen. Robert Nichols (512) 463-0103
Sen. Rodney Ellis (512) 463-0113
Sen. Royce West (512) 463-0123
Sen. Tommy Williams (512) 463-0104
Sen. Troy Fraser (512) 463-0124